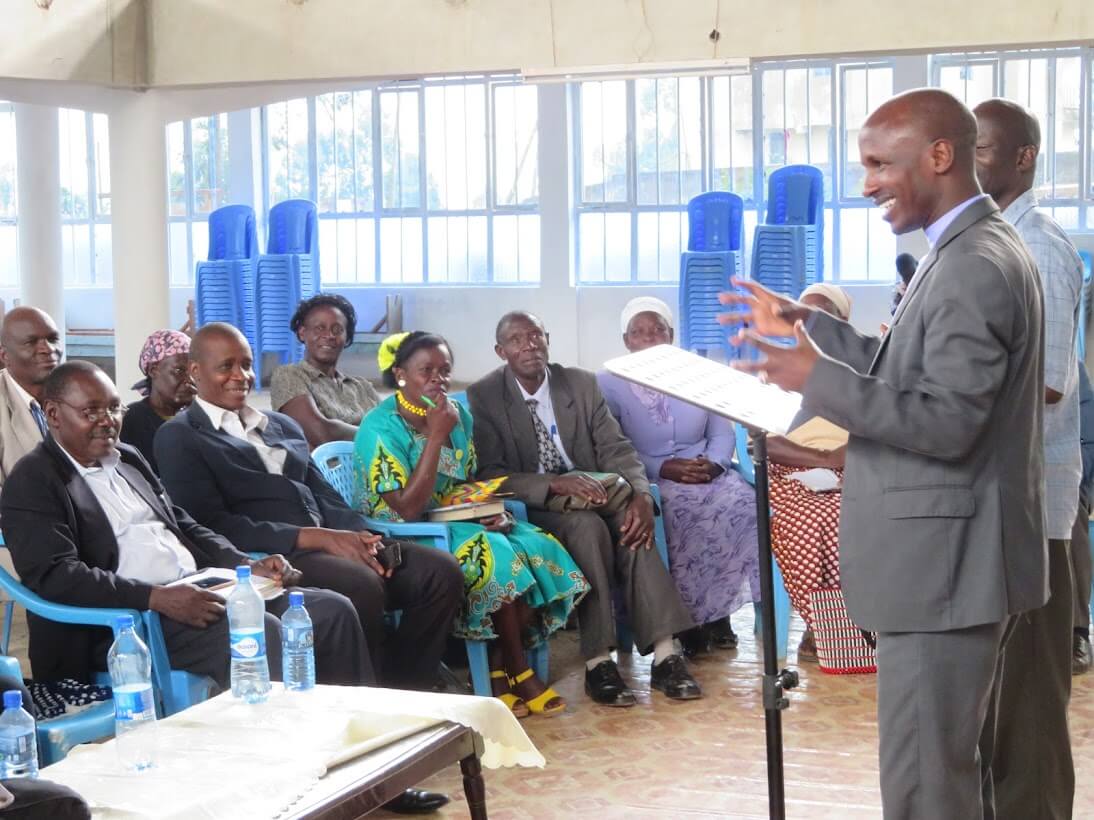 Possibilities Africa believes that holistic transformation is possible when leaders are empowered to overturn the generational poverty that binds Africans on all fronts. 
Our proven model changes lives, communities, and countries by replacing handout based living with a, hand-up solution: We do this through:
Spiritual Leadership Development
When natural leaders are identified, trained, and empowered, they are able to carry forward this hand-up vision for holistic transformation. It inspires individuals, families, and communities to take actionable steps toward vitality and flourishing. Our core strategy is to recruit and equip pastors— spiritual leaders—to understand, embrace, holistic ministry in their communities via CIFA groups.  
(A CIFA group is at least 10 pastors who gather for local accountability and spiritual encouragement). This community is modeled to their congregations, and they are encouraged to join similar groups called Shalom groups. Currently there are 67 active CIFA groups in 5 countries.  
Our core strategy is to recruit and equip pastors-spiritual leaders-to understand and embrace the holistic ministry that's needed to see true change take place in the hearts and minds of Africans.
These leaders initiate momentum that leads individuals, families, and communities to holistic transformation. Family dynamics, neighbor relations, workplace ethics, government practices—all these and more change as our leaders invite the presence of Jesus into every aspect of life. Only the gospel of Jesus Christ has the power to change hearts and minds. When someone embraces God's love and mercy, that person is made new with new life, new perspective, and new vision. That's why we equip our leaders to preach the gospel, disciple believers, and apply life-giving biblical principles, so every aspect of their community begins to flourish. 
Our model is connected to the formation and nurture of CIFA groups.  These are small groups of pastors and leaders who commit to our leadership development program based on the following process. First, we IDENTIFY leaders by recruiting 10 pastors and leaders who will commit to the program. Next, we LAUNCH a small group with these 10 pastors and leaders so they begin to work together. Then we NUTURE the group through various training seminars and one-on-one discipleship which empowers the group to initiate holistic growth for their unique community needs.  Currently we have over 1,700 pastors actively involved in this training. 
Breaking the cycle of extreme poverty is possible within a generation. We support rural churches to initiate mentorship of children. By mentoring young people, they are able to adopt a vision for life that combats the mental, spiritual, social, and economic deprivation that has been entrenched for so long.
Our model is to CAST VISION so youth are seen as the key to a flourishing future, IDENTIFY youth needs to reach maximum flourishing, and NURTURE youth to step into a new way of life and leave poverty mentality behind.  Currently, there are over 15,000 youth effectively being invested in.  
We combat the handout mentality by offering economic opportunities that overturn generational poverty. Solutions for economic troubles are hard to see in poverty's darkness. But hope-filled leaders are able to cast a bright vision forward, helping their communities gain perspective for what could be. Our core strategy is to work with equipped partners to promote economic productivity by developing local sources of capital and encouraging the creation of local, income-generating activities. Over 5,000 small businesses such as raising animals, vegetable farming and small shops have been started through the training of Possibilities Africa. 
Our model is to create and launch Savings and Credit Corporations (SACCO) to grow income generating activities (IGAs). Each SACCO is registered with the government and run as a bank, owned by those who save money in it.  Loans are extended to individuals as the other owners promise to repay the loan if needed.  
The Problem
The problem Possibilities Africa is addressing can best be understood as Africans being held captive by their past. It is a past of waiting for others to do things for them and of waiting to receive the next handout. The solution most often used to address this problem has been the following.  Identify a need, handout resources to address that need, and expect Africans to produce positive sustainable change on their own. This approach only reinforces the problem, it does not solve it. 
Help may be needed, but when the aid stops in Africa they still face the same old challenges. Despite the billions of dollars poured into Africa over the years of aid, very little has changed.  
Can things really be changed?  YES! But what is needed is for Africans to take responsibility for changing  their own lives. Possibilities Africa doesn't try to change their circumstances by addressing only a singular need.  And, we never provide handouts. 
But with God's help we provide hope, encouraging the cultural transformation and mental shifts needed which allow them to try new things. God has given each human a unique equipping to accomplish great things.  Through the training PA provides and micro loans the CIFA groups provide, dreams become a reality. This holistic solution creates positive and lasting change in rural communities throughout East Africa.  
Why We Serve
Possibilities Africa exists to see spiritual, mental, socio-economic, cultural transformation of lives in rural African communities. Our goal is to create capacity for  rural churches to do holistic ministry.
Who We Serve
Possibilities Africa is a Christian ministry that exists to work with people in the rural communities of Africa.  We are currently working in Kenya, Malawi, Rwanda, Tanzania, Ethiopia and Burundi.